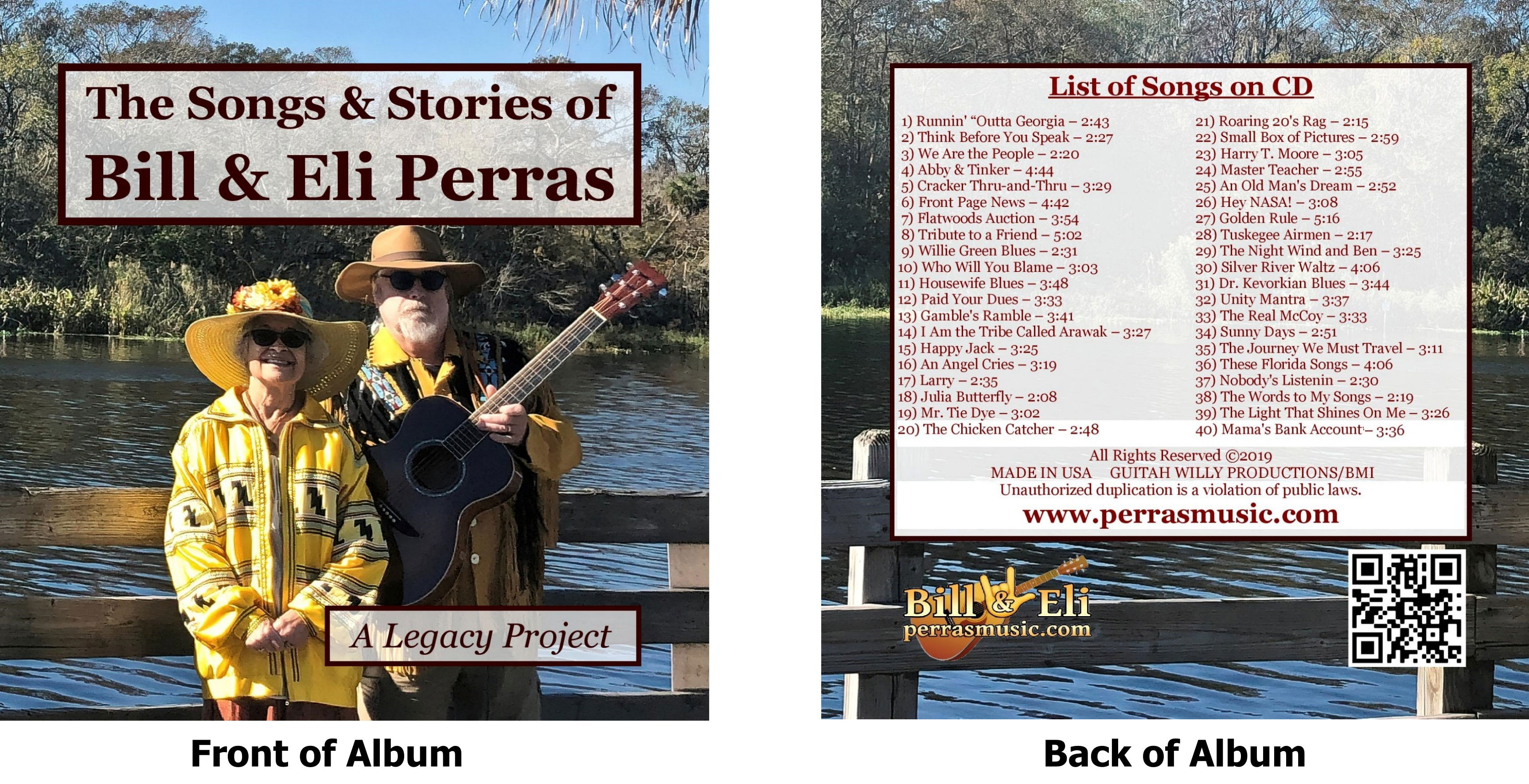 This is a CD only contains the same 40, very high quality mp3's that are included in the book "The Songs & Stories of Bill & Eli Perras - A Legacy Project. It was crested for the purpose of those who do not want the book but would like to have a way to listen to songs and do not want the book.
Note that even though the songs are in mp3 format, the cd still plays like an ordinary CD that play in any kind of home or automobile CD player.
Here is a list of the 40 songs on the CD:
1) Runnin' "Outta Georgia
2) Think Before You Speak
3) We Are the People
4) Abby & Tinker
5) Cracker Thru-and-Thru
6) Front Page News
7) Flatwoods Auction
8) Tribute to a Friend
9) Willie Green Blues
10) Who Will You Blame
11) Housewife Blues
12) Paid Your Dues
13) Gamble's Ramble
14) I Am the Tribe Called Arawak
15) Happy Jack
16) An Angel Cries
17) Larry
18) Julia Butterfly
19) Mr. Tie Dye
20)The Chicken Catcher
21) Roaring 20's Rag
22) Small Box of Pictures
23) Harry T. Moore
24) Master Teacher
25) An Old Man's Dream
26) Hey NASA!
27) Golden Rule
28) Tuskegee Airmen
29) The Night Wind and Ben
30) Silver River Waltz
31) Dr. Kevorkian Blues
32) Unity Mantra
33) The Real McCoy
34) Sunny Day's
35) The Journey We Must Travel
36) These Florida Songs
37) Nobody's Listenin'
38) The Words to My Songs
39) The Light That Shines on Me
40) Mama's Bank Account