Book Bill & Eli for a House Concert
A House Concert is exactly what it sounds like >>> A get-together of friends in your living room, live music, and often food, drinks, and conversation. Bill & Eli usually prefer these events over public concerts because they are cozy, intimate, and allow them a chance to really get to know the audience.
Here are some Frequently Asked Questions:
I don't have a big house. Can I still host a concert?
Yes! The cozier the better. You don't need a gigantic living room or a mansion to host a house concert.
How many people are you expecting?
Maybe, 100 people won't fit in your house. That's OK. Eli & Bill have done house shows with as few as 15 people, and as many as 60. The beauty of a house concert is that it is purposely more intimate and focuses on quality over quantity. Traditional venues rely solely on numbers, making public shows more about quantity than quality.
Can I book you at my neighborhood theater, coffeehouse, or gallery instead?
Yes! Bill & Eli often book House Concerts in conjunction with another event in the city. 1 public event + 1 private event equals 2 days well spent.
How much do guests have to pay?
There is no cost for guest to attend a House Concert, but traveling certainly appreciate it when hosts ask their guests to help Bill & Eli with their expenses, time, and effort associated with touring artists. Many house concert hosts have a basket by the door. They often interrupt the performance in the middle, give a 2-minute spiel asking people to support the artist, and then proceed to "pass the hat" during the performance as it continues. Donations really go a long well in helping the artist pay for gas and cover expenses while on the road. The recommended donation is typically somewhere between $15 to $20 per person, which depends on several logistical factors, and sometimes a little more if the host would like to take a small piece of the donation in order to help pay some of the expenses of hosting an event.
How do I plan this thing? The beauty in house concerts is that they are low stress. Once a date and time-slot is agreed upon, you can setup a Facebook invite and/or shoot out emails to your network of friends to let them know about it. Encourage them to bring a dish and it becomes a potluck prior to Bill & Eli's performance. Whatever happens, don't stress! Its just like hanging out with your friends! But I really don't want strangers in my house. This is usually a homeowners primary concern. They're interested in hosting something but don't want it to be listed as a public event. No problem. Simply keep the Facebook invite private. Eli & Bill will stick a generic "Private House Concert" listing on their calendar page. Oftentimes a fan will ask if they can attend the show. Bill & Eli ask you first if it's OK to pass your address on to this interested person. If you'd rather keep it a closed event, then no problem. It's your house!
What exactly is the order of events for the evening?
The order is pretty laid back. It's usually great to give folks 1 hour to arrive, get comfortable, and chat and partake in a potluck dinner, before getting into music. Music can go for as little as 1 hour or as long as 2. Sometimes, depending on how long the music is planned to go, there is a break in the middle to allow people to stretch their legs, get more food, etc. Ultimately, having little or no agenda is what makes house shows so perfect.
And, YES, We are more than willing to perform in your home, and split a 50/50 suggested donation with the organization, or charity of your choice.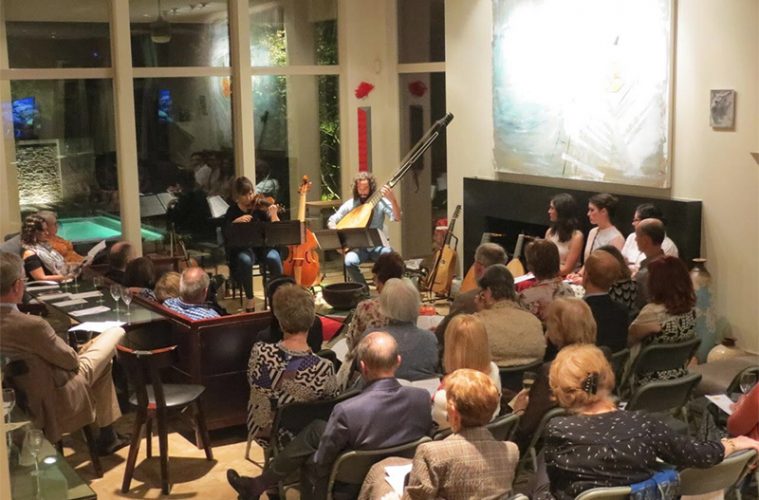 Past House Concert Performances:
Bluesboro Studios House Concerts - Rockledge, FL
Carroll City House Concerts - Athens, TX
Circle Entertainment House Concerts - Southport, NC
Fodor's Grove - Orlando, FL
GarageMahal - San Antonio, FL
Glades Edge Concert Series - Sunrise, FL
Harper's House Concerts - Hyattsville, MD
Honale House Concerts - Tellico Plaines, TN
IndyWest House Concerts - Indianapolis, IN
Living Room Sessions - St. Petersburg, FL
Music on the Mountain, Brackney, PA
Sarasota House Concerts - Sarasota, FL
Second Sunday's at Stetson's - Fruit Cove, FL
Timucua White House - Orlando, FL
Trout Lake Nature Center - Eustis, FL
Villa Conroy - Orlando, FL
And many more...
Click HERE to begin a conversation about bringing in Bill & Eli for your House Concert.